Luxury Homes for Sale in Central Florida and Polk County, FL
Your Gateway to Exclusive Living
Welcome to our webpage dedicated to showcasing the finest luxury homes for sale in Central Florida and Polk County. If you have a discerning taste for opulence, elegance, and exceptional living, you have arrived at the right destination. Central Florida and Polk County offer a wealth of prestigious communities and exquisite properties that cater to the most refined tastes.
Discover Unparalleled Luxury
Our curated selection of luxury homes presents an exclusive opportunity to indulge in the ultimate residential experience. From sprawling estates and waterfront mansions to sophisticated penthouses and gated community residences, these properties boast extraordinary craftsmanship, breathtaking architectural designs, and an array of high-end features and amenities.
Why Choose Luxury Homes in Central Florida and Polk County?
Investing in a luxury home in Central Florida and Polk County offers a host of advantages and experiences that set it apart:
1. Unmatched Elegance: Luxury homes in this region exemplify sophistication, blending classic and contemporary elements to create truly remarkable living spaces. Each residence showcases meticulous attention to detail, high-quality materials, and cutting-edge technology, resulting in an unparalleled level of elegance and comfort.
2. Premier Locations: Central Florida and Polk County are home to prestigious neighborhoods and communities that provide a desirable blend of privacy, security, and convenience. Whether you seek a waterfront retreat, a golf course estate, or an exclusive urban oasis, our luxury listings span the most sought-after locations in the region.
3. Exceptional Amenities: Luxury homes are known for their exceptional amenities, including private pools, expansive outdoor living spaces, gourmet kitchens, state-of-the-art home theaters, wine cellars, spa-like bathrooms, and much more. These features transform your home into a personal haven for relaxation, entertainment, and indulgence.
4. Access to Exclusive Lifestyle: Owning a luxury home in Central Florida and Polk County grants you access to a world of exclusive experiences. From renowned golf courses and upscale shopping districts to fine dining establishments, cultural attractions, and top-rated schools, the region offers a vibrant and fulfilling lifestyle.
Your Trusted Luxury Listing Agents
As your luxury listing agents, we understand the intricacies of the luxury real estate market. Our services extend beyond traditional real estate transactions. We are dedicated to providing an exceptional experience tailored to your unique needs and desires. Here's what you can expect from our services:
1. Expertise and Market Knowledge: Our team has extensive knowledge of the Central Florida and Polk County luxury real estate market. We stay updated on current trends, pricing, and market conditions, ensuring we can provide you with accurate and insightful guidance throughout the buying or selling process.
2. Personalized Approach: We believe in delivering personalized service tailored to your specific requirements. We take the time to understand your preferences, lifestyle aspirations, and investment goals. With our guidance, you can confidently navigate the luxury real estate landscape and find a home that exceeds your expectations.
3. Comprehensive Marketing Strategies: As luxury listing agents, we employ comprehensive marketing strategies to showcase your property to the most discerning buyers. Our marketing plans encompass professional photography, virtual tours, targeted online advertising, print media, exclusive networking channels, and strategic partnerships to maximize exposure.
4. Confidentiality and Discretion: We understand the importance of confidentiality in luxury real estate transactions. Rest assured, your privacy and sensitive information are safeguarded at every step. We handle your transaction with the utmost professionalism and discretion, ensuring a seamless and confidential process.
Contact Us Today
Ready to embark on your journey to find or sell a luxury home in Central Florida or Polk County? Contact our luxury listing agents today. We are dedicated to providing you with exceptional service and making your luxury real estate experience a seamless and rewarding one.
Register For a Free Account so that you can receive email alerts when Luxury Homes hit the market.
Michael Stone: 863-412-9733 or Deanna Stone: 863-412-2080
Elite Marketing

Our marketing efforts are greatly enhanced by our exclusive partnership with LUXVT and the Luxury Agent Network. Through this partnership, we showcase our clients' properties in some of the most prestigious brands in the industry, such as Mansion Global, The New York Times, The Wall Street Journal, Robb Report, Unique Homes, Market Watch, and many more. Furthermore, we expand our reach to international buyers and investors by placing our listings on over 90 international real estate search sites worldwide. Our platform is comprehensive and one of the most robust in the entire Central Florida region, providing our clients with unmatched exposure and access to the luxury market. If you are considering the sale of a luxury property, please don't hesitate to contact us today for a complimentary home valuation and marketing plan.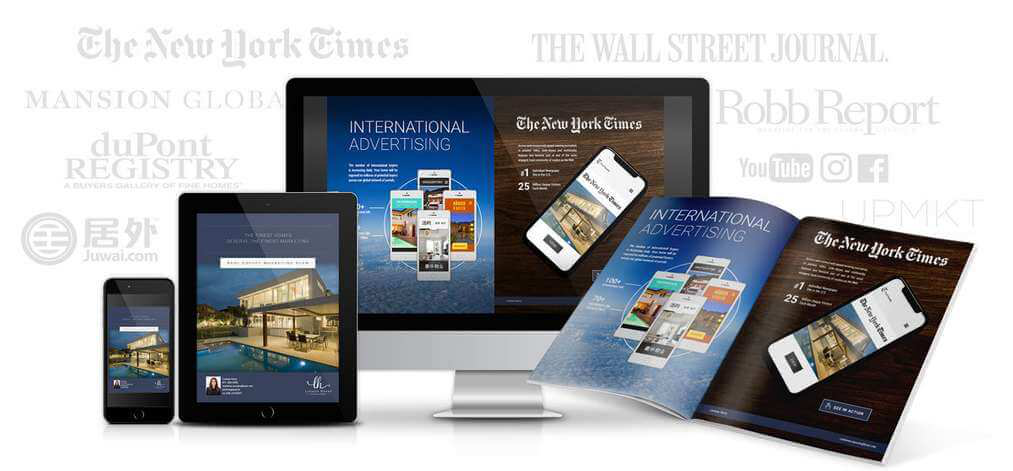 Central Florida Luxury
May 29, 2023
Luxury Marketing Services